Our clients love us
Why we're the best at what we do
Our rates are great, but our customer service is what makes us the best agency around. With over 75 years of combined Insurance industry experience, we know how to get you the best deals. At Deseret Insurance Agency, we're here with you through all of life's events. Read more about each of us, and how we've helped our customers!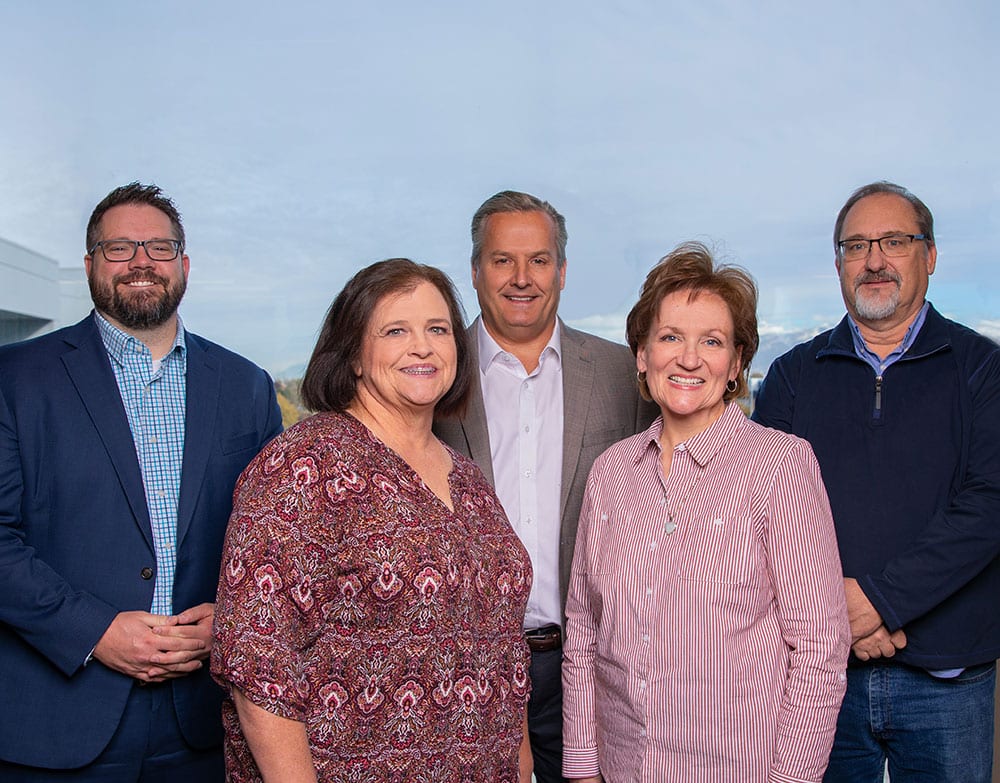 Two Deserets, One Goal
In the early 1980s, Lynn Bascom started Deseret Insurance Agency in a rented office space from Deseret First Credit Union. The two worked closely and in 2003, the Credit Union purchased the Agency in order to offer insurance services to its members. Today, Deseret Insurance Agency serves both CU members as well as the community.
Deseret First members get the perk of having the services of a credit union and the tools of an insurance agency right at their fingertips. Together, they can help you reach your goals of being financially stable and prepared for the road ahead.
Become a DFCU member today
We put you first
Referrals are a big part of our business, so we care about getting you the best deal and giving you the best experience we can.
As an independent agency, we work with multiple insurance carriers to get you the best price, but we also have agents and staff ready to assist. Please let us know how we can help your family, friends, or co-workers.
Refer a friend
You have always called me back. You have helped me with any questions or problems I have had. You have looked out for me, helping me to find lower cost but yet very good coverage. I had a claim last winter. First time to have a claim on homeowners. You called me right back and started things going. I had questions during the claim. You were there and answered my questions. Jan Witsman, you are the best. Thank you!

Suzanne Baranowsky

Deseret Insurance has been my agency for over 15 years. We have used them for homeowners and auto, and they are so friendly to work with. They make sure that the policy meets our needs and helps us get a great price. Thank you, Jan, for being amazing at what you do.

Elayna Boyd

The agency is always very responsive to my questions and has saved me money as a result.

Don Sutherland
We are family
Meet the Team!
Lynn Bascom

Vice President of Insurance Operations

Lynn started his career in insurance nearly 35 years ago. He is passionate about taking care of his client's insurance needs. You are in great hands with his years of experience, leadership, and hard-work ethic. Lynn is a Utah native and in his spare time, he loves to travel, be with his wife and family, and to serve others. He believes his greatest assets are his family members, including 10 grandchildren!

Ben Koger

Insurance Agent

Ben knows a lot about covering risk. After attending Weber State University, he decided to work in insurance where he has dedicated his life for over 9 years. Ben enjoys speaking to his clients and helping them find value in working with him. When he is not serving his clients and helping with their needs, he loves to spend time with his beautiful wife and 2 kids and obsess over Disneyland.

Michael Thayne

Insurance Agent

Michael graduated from Weber State University and started his career with insurance in 1990. When he is not helping his clients with insurance you will find him with his 4 kids and 8 grandkids. He loves sushi and the outdoors. Michael is also an avid sports fan, he especially loves the St. Louis Cardinals. His motto is…Whatever you are, be a good one. - Abraham Lincoln

Patty Bone

Customer Service Rep

Patty knows being dependable and trustworthy is what makes her a great customer service agent. These qualities help her build good relationships with our clients. In her spare time, she loves spending time with her 3 children. She especially enjoys caring for and doting on her 8 grandchildren. Patty loves the fact she lives in her childhood home and enjoys making more great family memories there.

Bev Hiatt

Customer Service Rep

Bev is kind and has great attention to detail. She has over 20 years of billing and bookkeeping experience in business and is now taking her career to new heights. She is a California transplant but has lived in Utah for over 35 years. When not working she and her husband enjoy spending time with their 10 grandchildren especially taking family hikes around the nearby mountains. Other things she likes to do are family dinners, walking around Liberty Park, and watching the seasons change.
---
Would you like to learn more?
Reach out - We're great with questions